Lenox Barbecue & Catering
Still Smokin'!
Cafeteria-Style Barbecue Restaurant
Lunch Only • Catering Available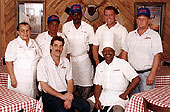 Authentic Texas BBQ
Lenox Barbecue & Catering has been serving delicious BBQ to Texas and Louisiana for more than 60 years. We take pride in our outstanding BBQ, great prices, and excellent service. Let us cater your next event!
More than 57 years ago on the east end of Houston, a small cafe started serving barbecue, and Lenox Barbecue was born. Their reputation grew along with the rest of the city of Houston, and so did the call for catering. In fact, one of the largest parties ever served was for Exxon-Baytown for 15,000 hungry Texans in the 1970s.
What does it take to serve 15,000 people?
11,000 lbs brisket; 3,000 lbs links; 2,000 whole chickens; 215 gallons barbecue sauce; 600 gallons beans; 4,700 pounds potato salad; 375 gallons coleslaw; 200 gallons onions; 150 gallons pickles; 1 barrel of jalapenos; and one bread truck.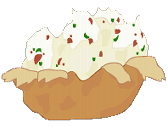 Biggest Stuffed Potato in Texas
18 oz. potato stuffed with butter, sour cream, cheese, chives, and choice of Chopped Beef, Links or Ham only $5.25. Stuffed with chicken or Turkey $5.40.
Platters, Sides, Sandwiches, Desserts, and More!
Catering to Houston, Texas and Surrounding Areas (200 Miles)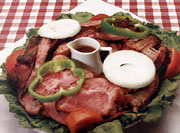 Call Today for the Best BBQ!
(713) 926-2649
Hours of Operation:
Lunch
Monday–Friday
11:00 a.m.–2:00 p.m.
Catering
7 Days a Week
Memberships:
Better Business Bureau
Texas Restaurant Association
Eastend Chamber of Commerce
Clear Lake Chamber of Commerce
Texas City Chamber of Commerce